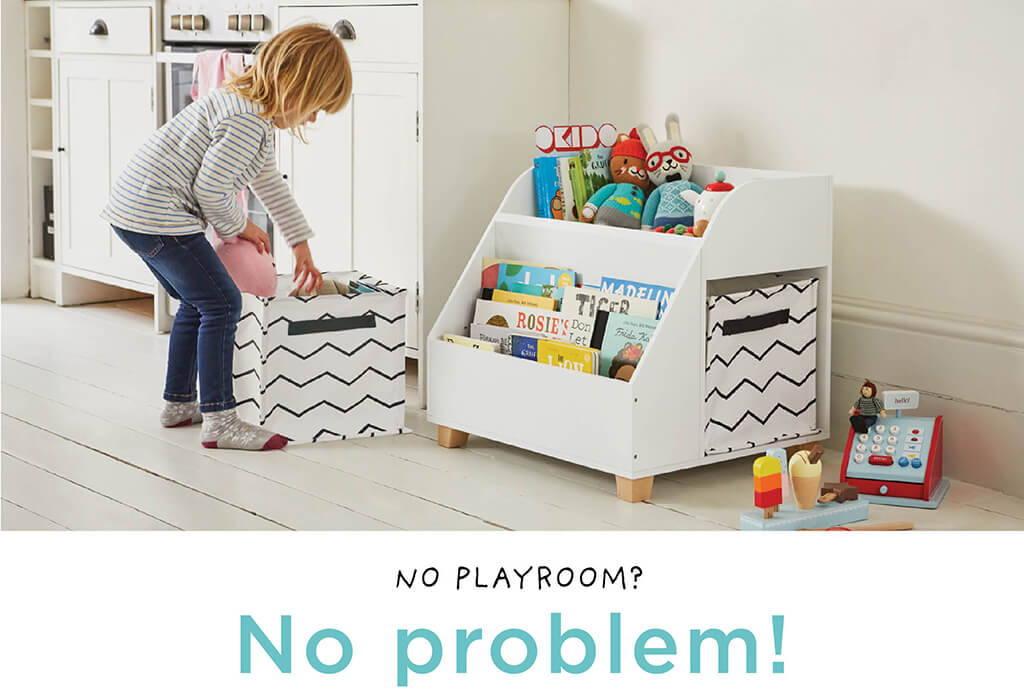 PLAYROOM IDEAS FOR SMALL SPACES
Short on space? Then, this one's for you. You don't have to have a dedicated kids' playroom to make space for play in your home. With our playroom ideas, you can create the perfect play space anywhere in your home.
Zone off an area for play with our versatile storage ideas, display-worthy wooden toys, child-sized furniture, gorgeous wool rugs, and comfy bean bags. No room is too small for a cosy book nook, a creative hub or one of our space-saving tabletop toys.
Read on to discover kids' playroom ideas for small spaces and open plan living.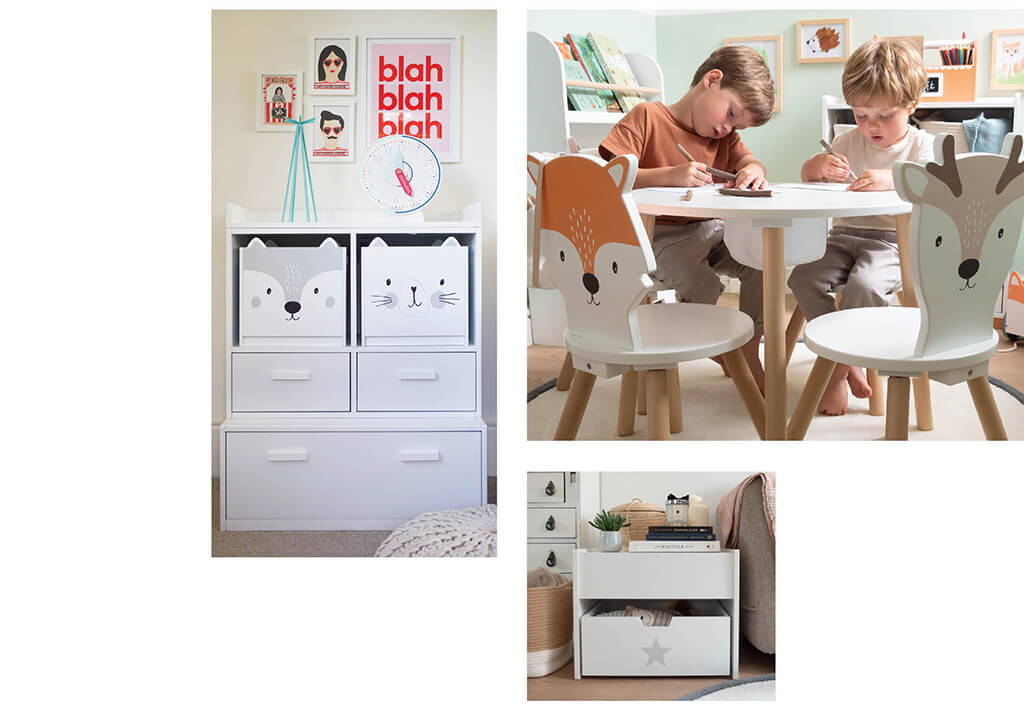 With our toys of all shapes & sizes, there's something to suit any room, big or small.
A designated 'kids' zone' in the kitchen can become the perfect spot to encourage role play whilst you cook or clean. Our tabletop cafés and play shops, as well as our small pantry style kitchens are ideal for small spaces. If you've got a little more room, our bigger toy kitchens will look right at home next to your real-life kitchen.
Keeping children close to Parent HQ will help them develop their communication, confidence, and social skills. It's also the best place for them to learn essential life skills as they watch you go about your day to day chores and in turn mimic these through play.
Alternatively, you could create a play area in your living room. Simply pop our Star Beans Coffee Shop or Lolly & Scoop Ice Cream Shop on a coffee table or side table, and you'll be served lattes and ice creams all from the comfort of your sofa!
When your home lacks a children's playroom, the tidal wave of toys can begin to creep into every room!
With our playroom ideas for small spaces, you can give Mr Mess his marching orders. A top tip when it comes to keeping a small space tidy is to: divide, sort & conquer. Separate the bricks from the animals with toy storage that turns tidying up into a sorting game. Our ingenious storage solutions will help you restore order and ensure children can easily find their favourites.
All our storage pieces are designed with every room in mind so they can look as much at home in a family living room as they would in a child's playroom or bedroom.
A flexible, modular system, like our Alba Playroom Storage, allows you to create your own unique storage and looks fabulous filled with some of our Canvas Storage Cubes & Baskets. For even smaller playrooms or shared spaces, a roomy toy box is a timeless classic.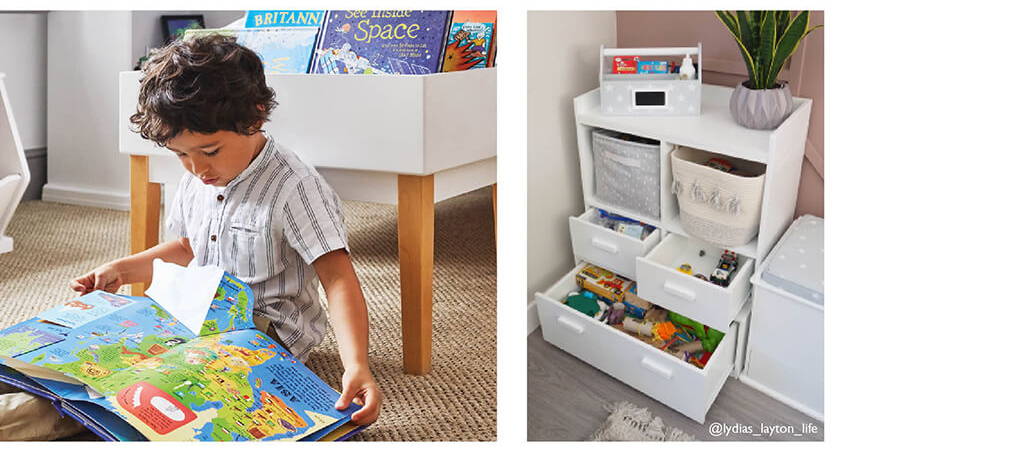 One of the best small playroom ideas we recommend, is to divide a room in half with a rug to create a separate play space. Our thick, pure wool rugs are great for doing so.
They're soft on little knees and are the perfect place for snug play times. Our bestselling On the Road Rug instantly creates an immersive play area with raised, textured roads and parks.
Make sure their play space is extra cosy and inviting with comfy bean bags, or even a den of their own. Let them snuggle up with a book or lose themselves in an imaginary world..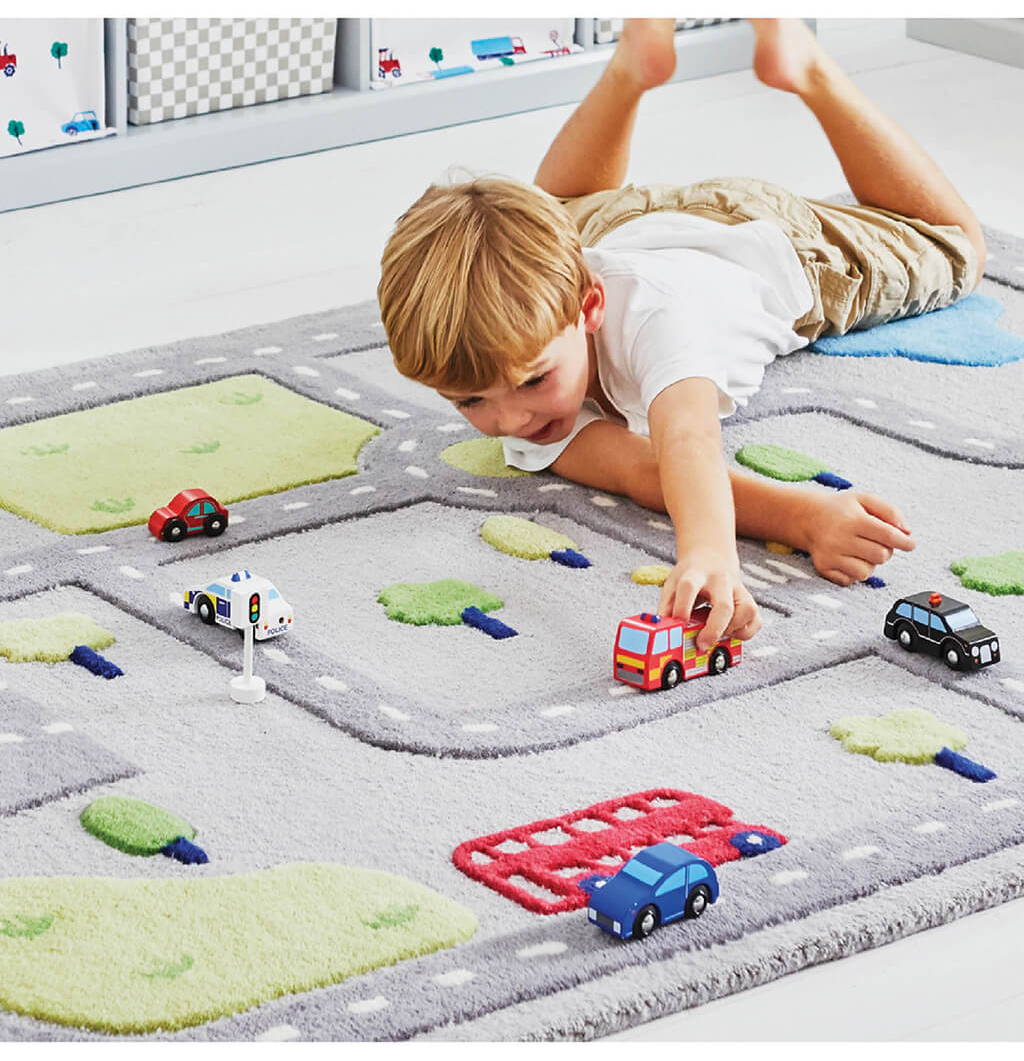 Our range of perfectly proportioned toddler tables, play tables, desks and chairs can help you create a kids' playroom within another room. They're not as big as grown-up tables & chairs so take up less room!
All our furniture is designed with little people in mind; we understand that it's easier to have fun when tables and chairs are the right size!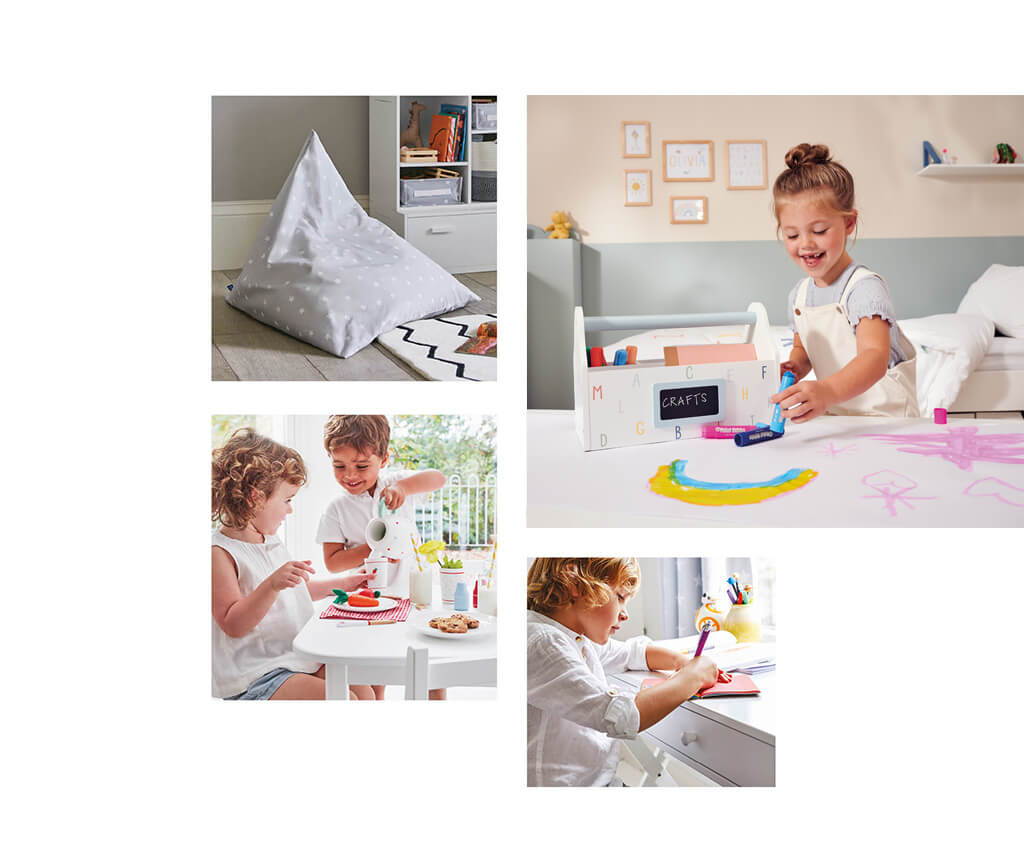 We test all our designs for safe use by children and ensure they're built to endure hours of messy play. We've also got you covered when it comes to style. Our furniture pieces are designed to slot seamlessly into play areas in living rooms – just because you're a parent, your home doesn't have to become a style-free zone.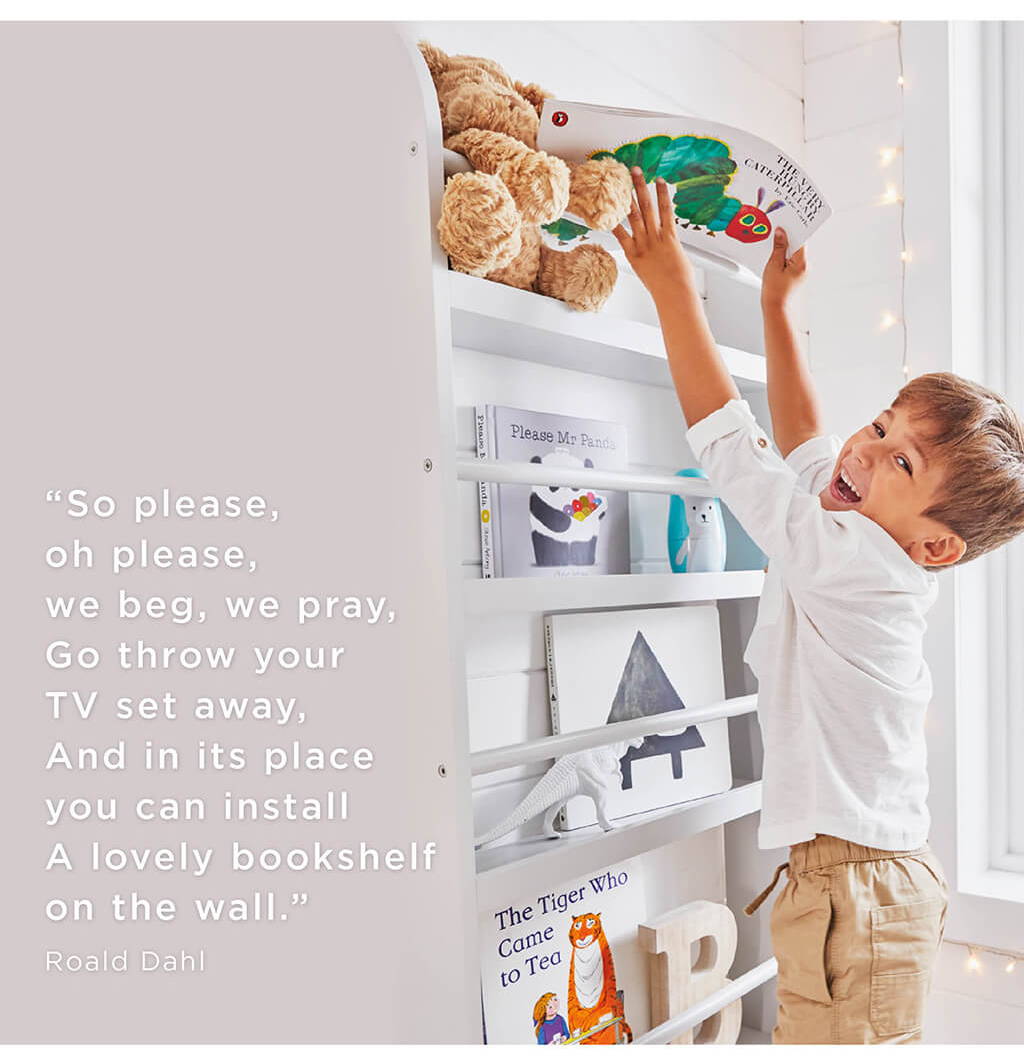 When searching for kids' playroom ideas, you can't forget to include a bookshelf! Encourage a love of reading by always keeping books close by, even in their play area in your living room.
All you need to set up a cosy corner they'll love to share a story in or seek out for some quiet time, is:
- A soft rug
- A comfy seat
- A sturdy bookcase
From wall-mounted gallery bookcases and library tables, to animal themed portable book carts and front-facing bookshelves, our range features all sorts of book storage for all kinds of spaces.
Book worms and reluctant readers will both reap the benefits of having a special place for reading.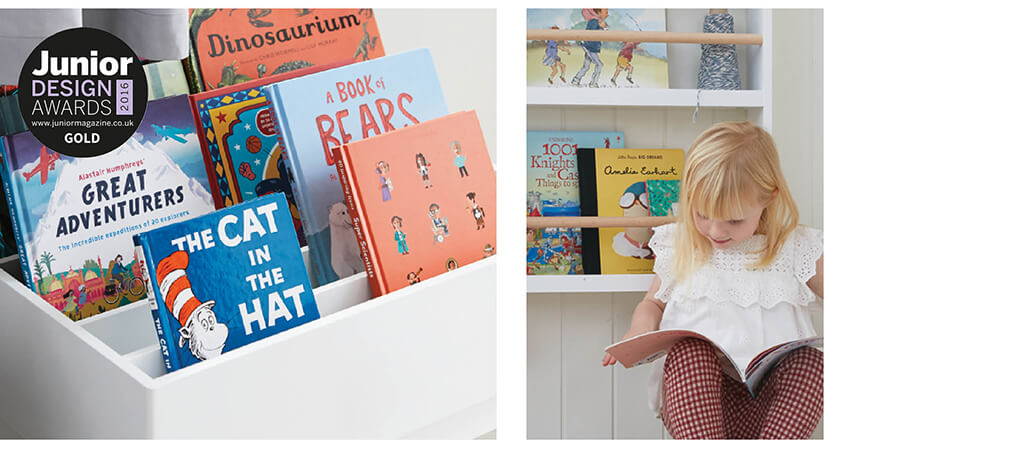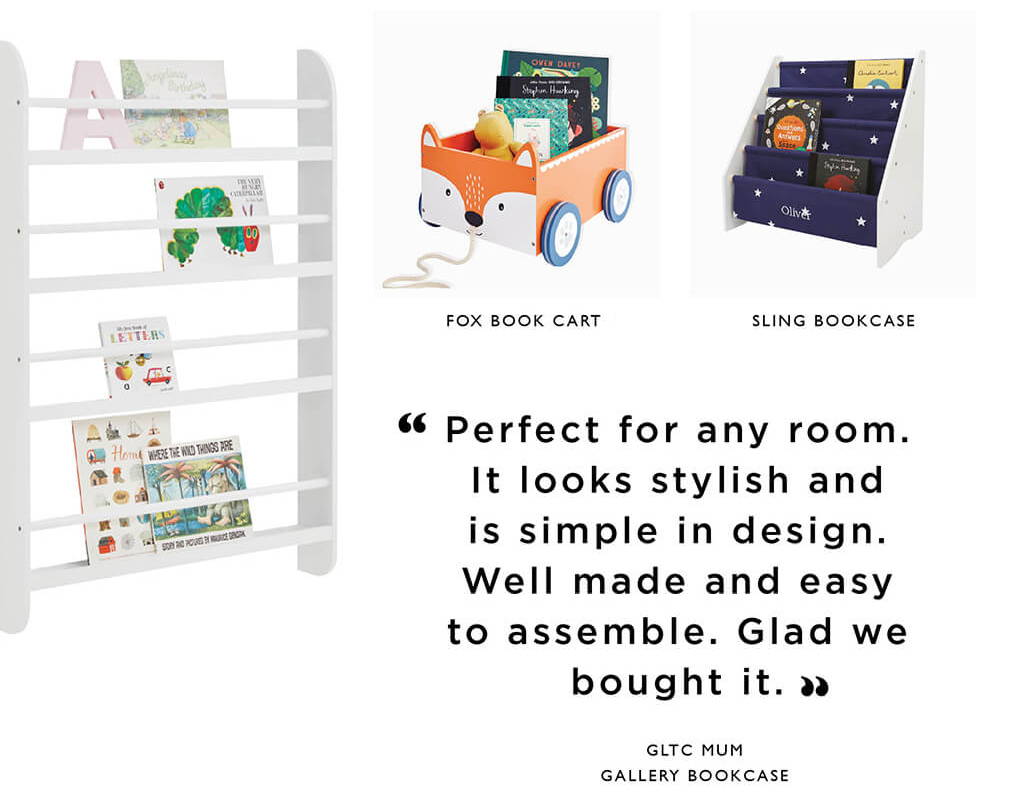 Whether your children's playroom is a section of your living room or a dedicated room, we've got a wide range of toy storage, bookshelves, room accessories & toys to help you make the most of your space.
For more playroom ideas, check out our shop by room section.