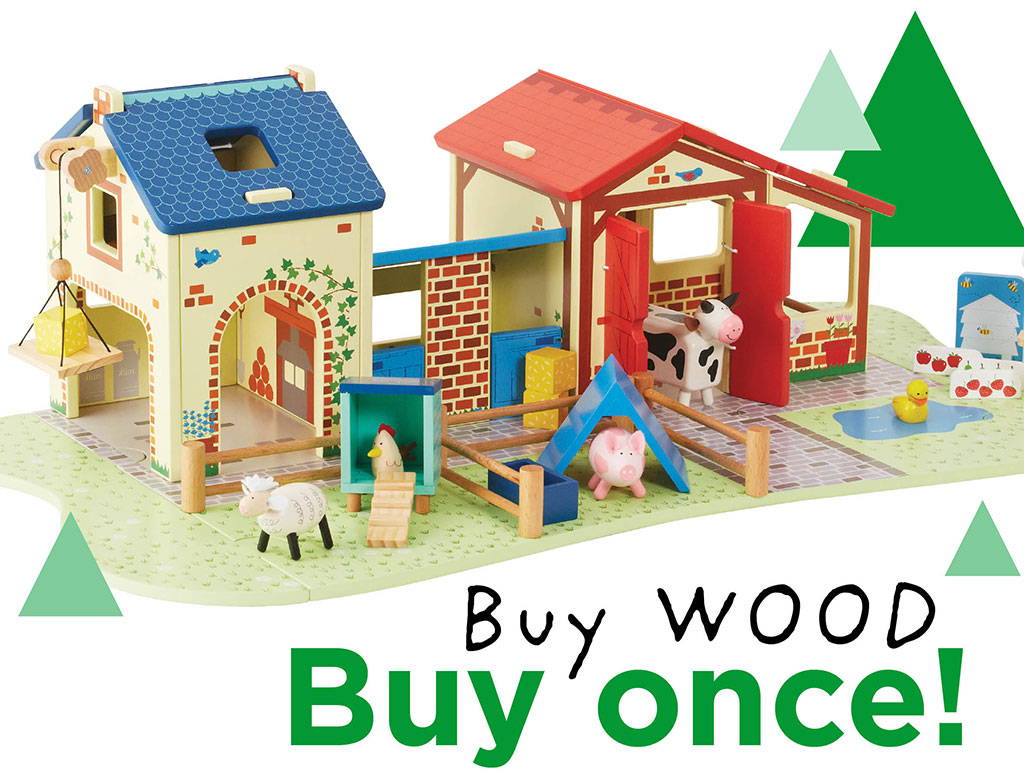 THE BENEFITS OF BUYING WOODEN TOYS
As a family brand we want to help preserve our lovely planet for the next generation (and the next and the next). From opting to use a reusable coffee cup, to using beeswax wraps instead of cling film, there's a lot of small switches you can make to help reduce your impact on the environment. Making sustainable choices can also extend to your child's toy box.
Our wooden toys for children have four amazing superpowers that make them a whole lot better than plastic alternatives.
Read on to discover why we believe in the benefits of wooden toys.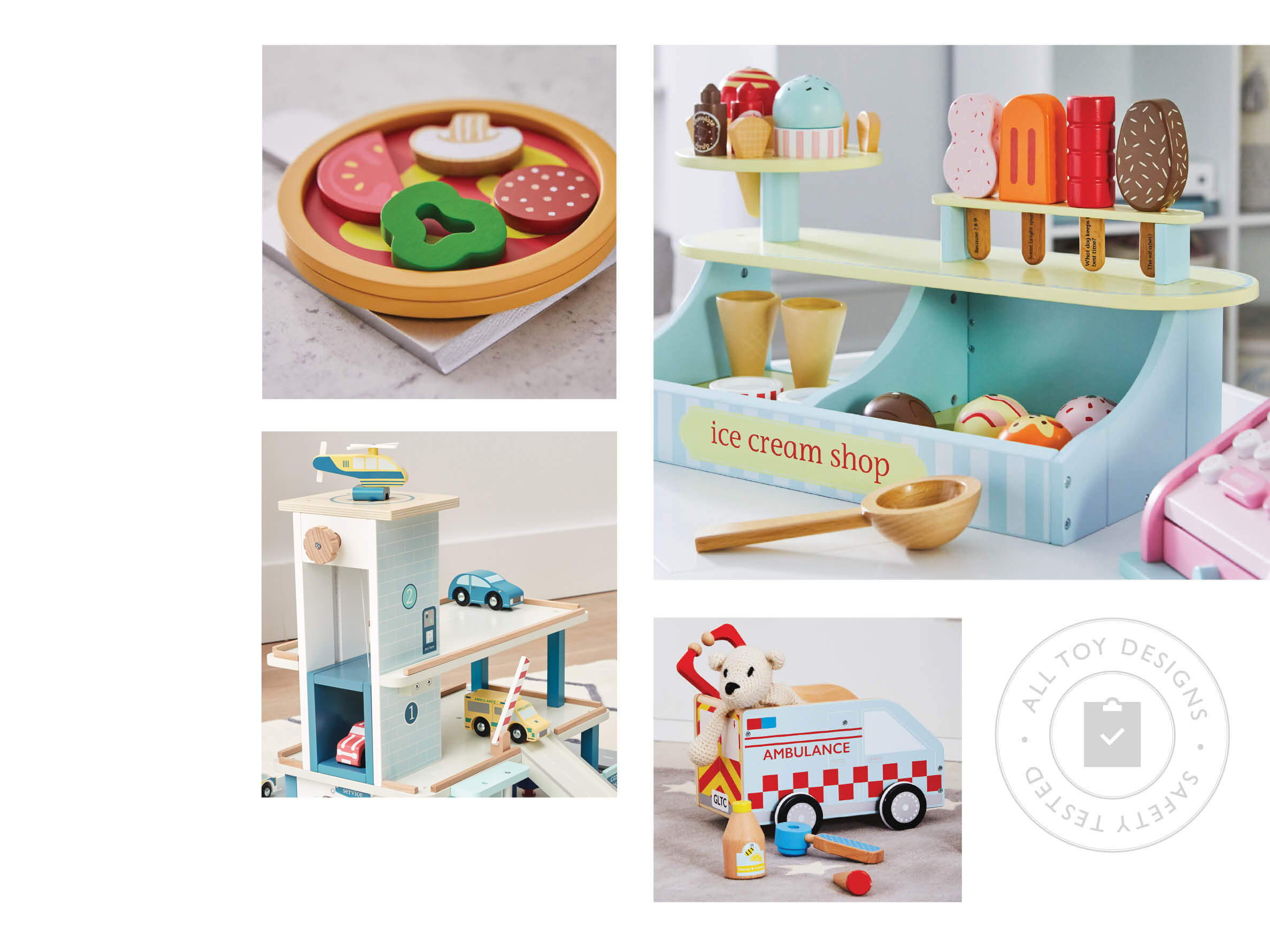 Our wooden toys for kids are much more long-lasting than their plastic counterparts, so they can be passed on to the next generation. We rigorously test all our designs to ensure they're safe for children, durable, and will stand the test of time. This equals good news for your bank balance as you won't need to replace them regularly. Our wooden toys are family heirlooms in the making!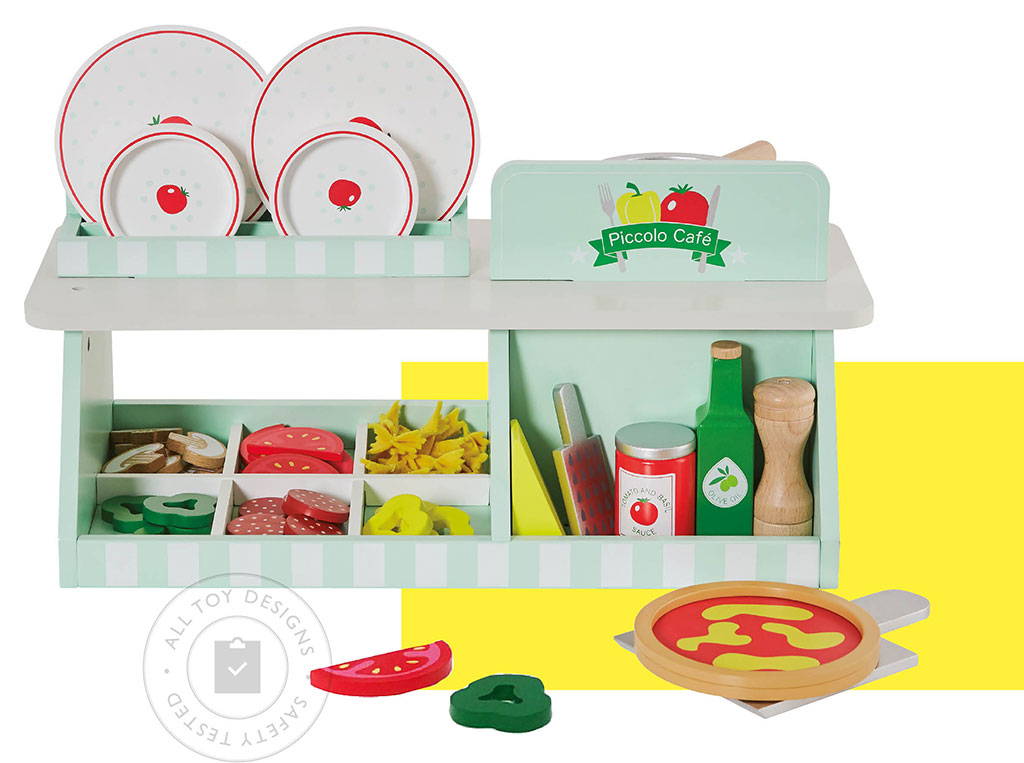 THEY'RE BETTER FOR THE PLANET
One of the biggest advantages of wooden toys vs. plastic toys is that wooden toys are biodegradable, but all those plastic toys cluttering up your home will still be plaguing the planet for centuries to come.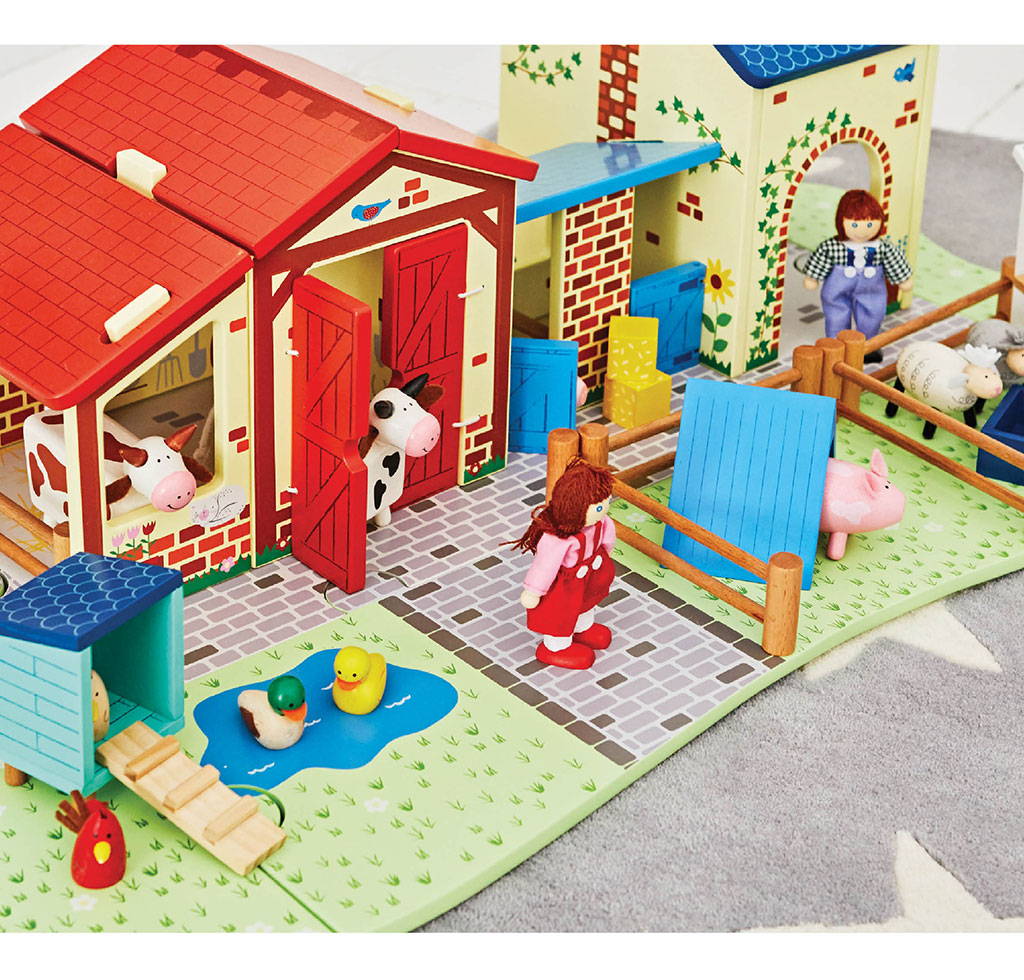 Our wooden toys are powered by make-believe not batteries, so it's your child's own creativity that does the legwork. Not only do our wooden toys get children's imaginations ticking, they help them develop essential social, visual, and motor skills.
Our wooden play kitchens are teeming with thoughtful details to captivate little cooks. We love all the words and symbols our toy designer adds to help children with letter, number, and shape recognition.
There's also so much opportunity for fun play dates and sibling play with our wooden toys. Many offer 360 degrees of play value so children can easily access them from different angles. Playing together is a great way to help develop their communication, problem solving and negotiation skills, as well as boost their confidence.
Our Toy Designer, David, explains more about the benefits of wooden toys:
"Role play toys should act as props for a child's own game and that's why our wooden toys work so well. Even though initially they may not seem to 'do' as much as the all singing, all dancing array of plastic toys on the market, our wooden toys exercise the child's imagination more. Think of it as a good run outside and a big stretch for the brain – having too many electronic toys and prescriptive games is like never letting your kids run in the park or jump in puddles."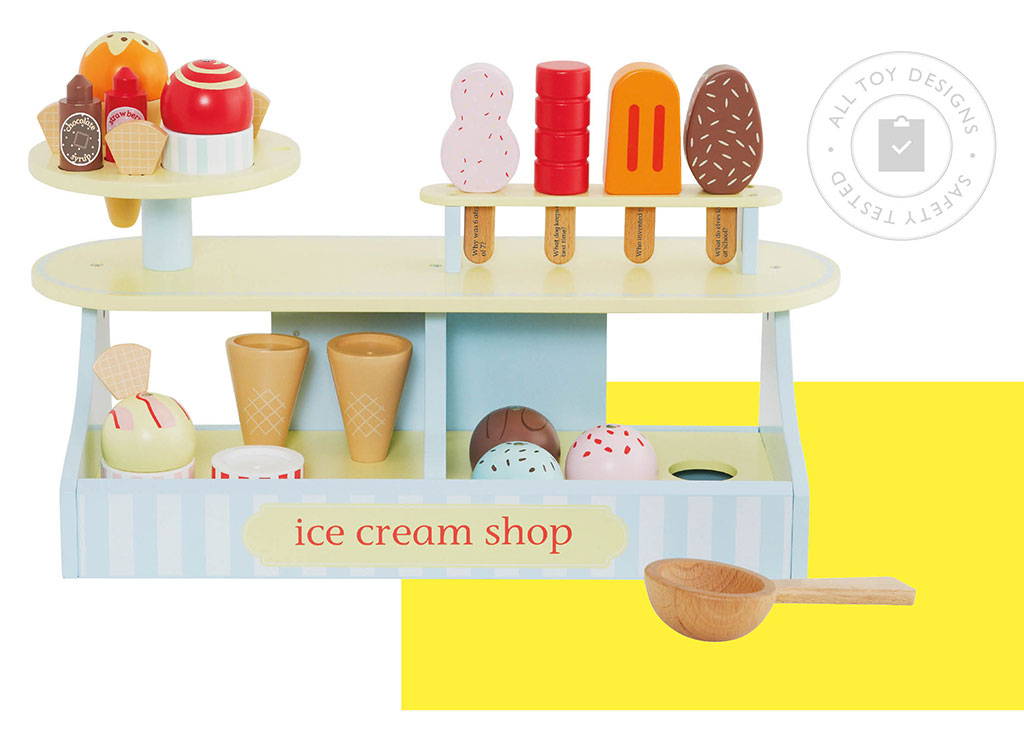 Nobody wants to clutter their home with ugly plastic toys. But you'll be happy to have our beautiful wooden toys out on display, right where children can play with them. One of the biggest benefits of wooden toys is they're the kind of toys that don't need to be tidied away as they're so appealing, even to grown-ups.
We design toys of all shapes & sizes so there's something to suit any play space, big or small. From tabletop shops and cafes to larger play kitchens, there's no need to hide our attractive wooden toys away in a cupboard!
The result: they're played with more often. The benefit: your child gets to learn through play every day.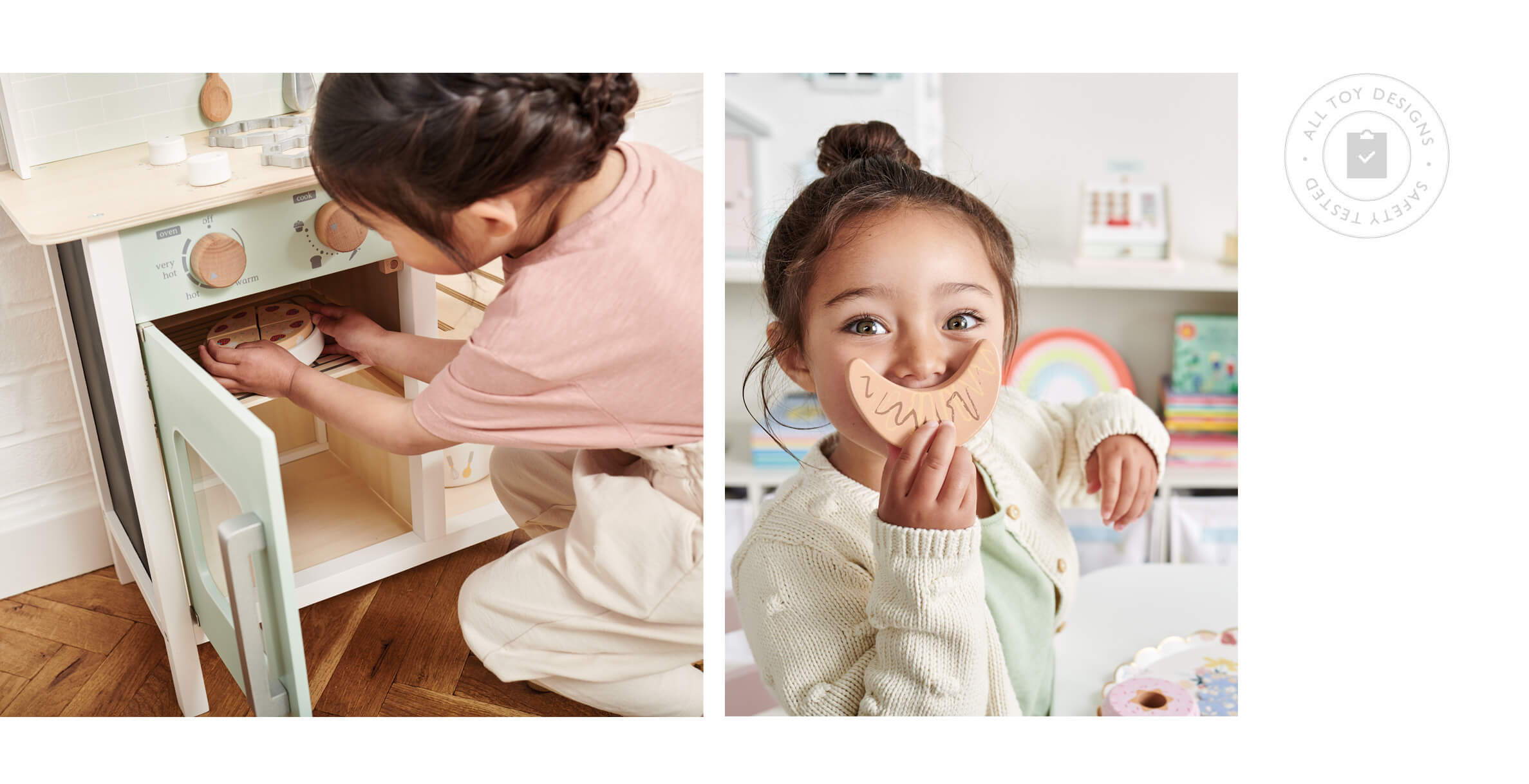 If you've been wondering, why buy wooden toys instead of plastic ones, the simple answer is: because wood is good, but not only good – it's BETTER. It's better for your child, for your home, for your pocket, and for the planet.
Our wooden toys offer long-lasting play value; they exercise a child's imagination, as well as encourage learning through play. Their durability means more money in your bank account and less plastic in the ocean or landfill.
Remember: Buy wood, buy once.